Headphones vs. headsets? Earbuds vs. earphones? Over the ear vs. in the ear vs. above the ear? Noise cancellation vs. noise isolation? Figuring out the difference from all of the options out there can be overwhelming. Picking out which earphones to buy can be like trying to pick out one instrument out of a 100-member orchestra. Here is some vital information to help you start.
Let's Educate Ourselves!
Headphones, Earphones and Earbuds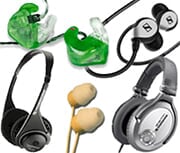 There are many small technical differences between the three. The industry likes to confuse and use the terms interchangeably for their marketing purposes.  Let's keep it simple.  Headphones wrap over or around the ear, while both earbuds and earphones are inserted directly into the ear canal. Of the latter two, earbuds are normally less expensive than earphones as the sound quality and performance is lower. 
You can usually hear surrounding and ambient noise using either one, making them perfect for active users and being outdoors as you are not completely shut out from your environment. But this might be not be the best feature for those needing no distractions, which is why noise cancelling headphones were developed.
Active Noise Cancellation and Noise Isolation
Noise isolating earphones separate the sounds produced by the speaker in your headphones or earphones from those being generated by the outside world. Unlike active noise cancellation (ANC), no microphones, batteries or electronic features are involved.
Noise isolating technology is merely blocking out ambient sounds through the use of physical barriers placed between your ear and noises from your external environment. Cushions, padding, and fittings all help isolate the audio you listen to by muffling outside noise. Compared to ANC, this is generally the lower performing and less expensive of the two options.
Active noise cancelling headphones, on the other hand, use internal and external microphones to measure outside noise. After the mics identify the frequencies of these external noises, the ANC headphones create "anti-noise" soundwaves around the areas where unwanted ambient noise usually enters your ear.
Basically, these headphones will produce inverse waves, effectively cancelling external noises out. You won't hear anything except the audio from the headphones' speakers. This technology is called digital signal processing (DSP). That's why noise cancelling headphones are so great for sleeping. The options are many and while some can get quite pricey, there are some perfectly affordable options for you as well.
Which Option is Best for Me?
There is no "better" or "best" option when shopping for noise cancelling headphones or earbuds. You simply have to decide which product best suits your needs. Of course, things like price, style, weight, comfort, performance all come into play when deciding on what headphones to buy.
Whether you purchase simple $5 earbuds at Walmart to go jogging with, or pay hundreds of dollars for noise cancellation headphones for sleeping, you should keep some important factors in mind. Here are some considerations when buying noise-cancelling headphones:
Purpose. First and foremost, you have to think of what your headphones will be used for and what type is the most practical for that specific purpose. This is the first and probably most important concern. Will your headphones be for audio-visual production or would these be for listening to music while on-the-go? What you need your noise cancelling earphones for determines the necessary requirements you look for – sound quality, comfort, build – before you look at awesome functions.
Comfort and Fit. You want to make sure your headphones are comfortable, especially if you're planning to wear them for hours at a time. Earphones and earbuds can be inserted in your ear or clipped around your ear for extended amounts of time. In comparison, headphones compress your earlobes so you'll need to be a bit more discerning if you wear them for long periods.
Sound Quality. It is pretty well accepted that earbuds, although handy and very utilitarian, don't produce the best sound quality. Because of their size, headphones tend to be built better with electronic features that obviously produce much higher end sound quality. Not to mention you have noise cancelling options that make for a better listening experience.
Build and material quality. Make sure to do your due diligence when checking out warranty information, battery life, and the type of the material used to make your headphones. You should also check that the headphones will meet your standards when it comes to durability of the said material.
Wired vs. Wireless. Considering purpose and comfort, think about whether your headphones having wires will get in your way. If you're going to use earbuds to exercise or do physical activity which requires a lot of movement, mimic moving while trying on different types. You and the salesperson will get a great kick out of it, and you'll know if you need to get rid of those pesky wires.
If you are looking to purchase noise cancelling headphones to sleep in, wireless may be the way to go. If you don't mind the wire, ensure they are long enough and try the headphones on at the store and actually ask yourself, "Could I sleep with these?" If the answer is yes, then you're good to buy a wired pair of headphones.
Price. Earbuds tend to be on the lower end of the pricing spectrum while high quality noise cancelling earphones are the priciest. Regardless of your choice, always set a price point you want to work with before shopping.
On another note, do your research online beforehand to know the price ranges of your chosen headphones type. This will also help you avoid any kind of pricing shock or overspending on a pair of average headphones. If you do purchase online, make sure you still try them out physically before doing so, and ensure they have a refund or exchange option.
Setting Expectations
You might not find THE perfect set of noise cancelling headphones, but if you're armed with a set of must-have criteria, this will help you narrow down the field. And sometimes, you may end up with more than one for different occasions. The important thing is to educate yourself on your choices, know your options, and to feel confident and comfortable with the choice you make.